In your favorite design
Every custom-made eBook reader bag is available in 10 color variants. Choose between the felt colors anthracite and light gray as well as five different cotton patterns.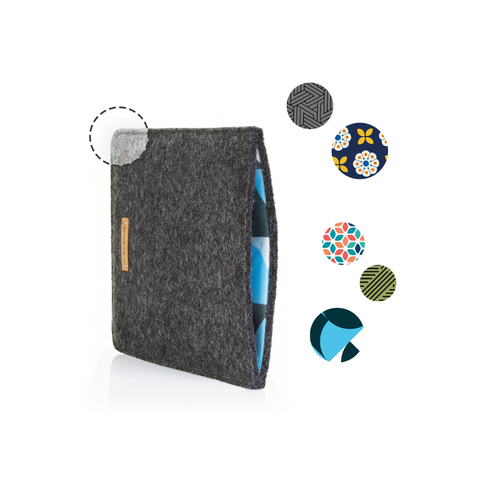 Our customization
We manufacture your custom-fit eReader protective cover in our own factory in Trier. With love to detail and great attention to good materials and fair production, you will receive a high-quality, beautiful felt sleeve for your e-book reader.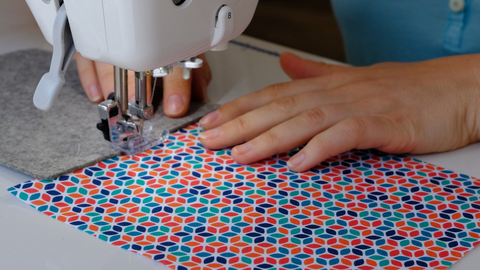 eBook reader case from smukbird®
A quality bag for your book collection.

Our custom-made e-book reader cases protect your device, are durable and dimensionally stable. Thanks to our precision fit, the eReader case stays in place without a fastener. Outside there is 2 mm thick wool felt. This has a temperature-compensating effect and thus protects the battery. Inside is organic cotton in exclusive Smukbird® designs. Only the best for your smartphone! Each made-to-measure eBook reader sleeve is of high quality with a great deal of attention to detail.
Therefore made to measure
We want to protect what is important to you and with the best possible individuality. Your e-reader is like a treasure full of stories that should be well protected when you're on the go.
In the meantime, eBook readers are more than established and accordingly there is a certain selection of devices. Do you also have an exotic device or an older model or are you looking for a simple but high-quality case? This is where our customization helps.
Our accuracy of fit
Your eBook reader doesn't just slip out of the case. We tested this several times when calculating the bag size. As a result, it does not require a closure and remains minimalistic and stylish. At the same time, the size is optimized for optimal handling. So you can easily remove and insert your eReader.
Protective cover
Each Smukbird® e-reader case made to measure protects your device from bumps and scratches. It is designed as a protective cover. Outside there is 2 mm felt, which is self-cleaning and dimensionally stable for years. Inside is the soft, lint-free cotton.

All around runs in through the sewn felt edge 3 mm edge protection. As a result, the felt case offers the most protection exactly where an eReader reacts most sensitively in the event of a fall, namely at the corners. This greatly reduces the risk of cracks in the display.
High-quality, made-to-measure eBook reader case
Clean processing is one of our highest quality criteria. Our organic cotton yarn seams are even and clean, even in the curves. The felt parts are precisely cut. The cotton lining is fitted into the cover in such a way that the edges of the seam allowances are neatly covered and do not tear. Inside and out, you'll love the quality of our custom-made eReader cases. 
Holds even without a clasp
Simply slip your eBook reader into the case and take it out again easily. The protective cover fits snugly and stays in place without a clasp. It nestles around the device like a sleeve.
Felt cover made in Germany
Your custom-made eBook reader case is 100% made in Germany in our own factory in Trier. In this way we have an influence on all steps, can ensure high quality and ensure good working conditions. Having fun during production is very important to us. This form of appreciation, along with all the good materials, flows into your custom eBook Reader case.
Extensively tested
All of our cases have also been extensively tested by ourselves in everyday use. We kept thinking about what is important to you and the many eReader owners. All of this went into the development of our felt sleeves. The result is a simple, sustainable cover with that certain something. The extraordinary detail is our specially created organic cotton. You won't find these patterns anywhere else.
Simple & elegant, this is the Smukbird® eBook Reader case made to measure
With our cases you have timeless protection for your e-book reader. Completely no frills. With us, simple is also beautiful. This is ensured by the lining made of organic cotton on the inside, printed with an exclusive Smukbird® design.
Without leather, but with felt from trustworthy shepherds
The wool for our felt comes from sheep from New Zealand and Australia and is mulesing-free. Mulesing is a controversial process, which is unfortunately still practiced in Australia, but only with Merino wool sheep. The Australian wool from our German felt producer is 100% free of merino wool. This creates a mixture of New Zealand merino wool and Australian non-merino wool, which also has an effect on the particularly good and consistent quality of our felt. It is even, stable and pleasant to the touch.
GOTS-certified organic cotton
The production of organic cotton is GOTS certified is subject to the socially and environmentally compatible GOT standards. The printing takes place within the EU in Poland at a modern textile printing company. The Organic cotton yarn is produced in the tranquil Netherlands.
The sustainable eBook reader case
The felt cover is only made after the order has been placed for a conscious and resource-saving use of the starting materials. We continue to pay attention to short supply chains and continuously optimize them. We have found a sensible use as filling material for the material leftovers from production, so that production is almost waste-free.
The felt and cotton are completely biodegradable, preferably in your own garden compost. Only the logo label contains about 20% plastic. It is best to cut it off before composting. Thanks!
Why an eBook Reader case from smukbird®? 
We, that is Manu and Bogdan, with a lot of experience with felt and cork accessories. Since 2008 we have been managing companies that produce and sell felt covers. Cover is not just cover. We know that and we take it very seriously.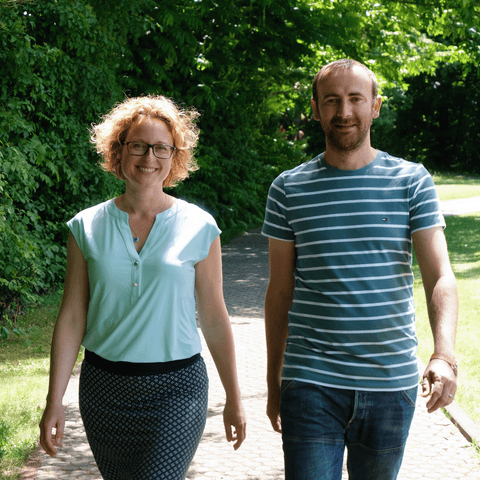 Our contribution to the environment
Our contribution to the environment is not only the use of sustainable, natural and durable materials for your eBook reader case. In addition, we plant a tree with every case we send, thereby supporting the reforestation projects of the global organization "Eden Reforestation Projects". Here unemployed farmers, for example in Madagascar, can earn their own living again through reforestation and at the same time valuable mangrove forests are renatured.